PURE PEPTO - 2005 AQHA Red Roan  14.2HH,  eeAARn, 5 Panel N/N
$10,000+ Earnings, currently showing
NCHA Certificate of Ability
2012 UQHA Red Rock Reserve Senior Working Cow Horse Champion
GJHSA 2012 Open Reining Reserve Champion.
Phoenix has spent several years working on a Cattle Ranch. His foals are very athletic, easy to train, great bone.
His foals are Eligble for:   
                                            Nebraska Ranch Horse Futurity, Iowa Breeders Cutting Futurity, National Ranch Riding Futurity,                                                                                          3RBRA, Southern Cutting Futurity , BRIF, Worlds Richest Breakaway
APHA & ApHA Approved, FQHR registered (pending)
 2023 Breeding Fee: $1000 Including Chute Fee and First Shipment.
Contact Us for a breeding contract. 
Follow PHOENIX on facebook.
Son of: PEPTOBOONSMAL , $180,487 LTE, 25 Million Dollar Sire, NCHA #4 Leading Sire & NRCHA top 15 all time leading sire, Equi-Stat #8 Leading Sire. 
Out of: Mae Bea Marie $77,606 Earner, $1.M+ Producer. By Freckles Playboy; AQHA Show H-0/P-25, NCHA $59,975.59, NCHA COA Bronze/Silver, Hall Of Fame 2013  
In NCHA, Freckles Playboy is ranked third on the list of all-time leading sires, by offspring earnings. His sons and daughters tallied an amazing $24.5 million in NCHA earnings. Freckles Playboy offspring also earned more than $285,000 in the National Reined Cow Horse Association, more than $125,000 in the National Reining Horse Association and nearly $177,000 at the AQHA World Championship Show. He has 2,084 registered get, and he only competed in one AQHA event, reining, earning a World Championship in 1977.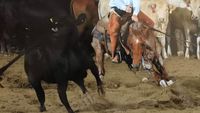 $180,487 NCHA LTE, $25 Million Dollar Sire, NCHA #4 Leading Sire, NRCHA Top 15 All Time Leading Sire, Equi-Stat # 8 All Time Leading Sire.

AQHA & NCHA Hall of Fame (2008) NCHA $172,711+

4-leading cutting horse sire of all time. Sired earners of over $28,000,000.00+

3 Times NCHA World Champion Cutting

earner $107,850+ in NCHA competition. Produced $2.63+ million in NCHA & 3,200+ points in AQHA competition.

AQHA Show H-36/P-0 ROM Halter AQHA Race SI:75/A, 4-0-0-1, $95. Leading sire of AQHA Champions, NCHA Champions, and Arena ROMs. Offspring earned $1,178,484 in cutting. SIRE OF: 487 foals, 1960-1978. 323 performing foals. World Ch 9, Reserve World Ch 4, Top Ten World Show Offspring, Superior Halter. AQHA Hall of Fame

AQHA Show H-0/P-25 NCHA $59,975.59 NCHA COA Bronze/Silver Hall Of Fame 2013 In NCHA, Freckles Playboy is ranked third on the list of all-time leading sires, by offspring earnings. His sons and daughters tallied an amazing $24.5 million in NCHA earnings. Freckles Playboy offspring also earned more than $285,000 in the National Reined Cow Horse Association, more than $125,000 in the National Reining Horse Association and nearly $177,000 at the AQHA World Championship Show.

AQHA Show H-36/P-0 ROM Halter AQHA Race SI:75/A, 4-0-0-1, $95. Leading sire of AQHA Champions, NCHA Champions, and Arena ROMs. Offspring earned $1,178,484 in cutting. SIRE OF: 487 foals, 1960-1978. 323 performing foals. World Ch 9, Reserve World Ch 4, Top Ten World Show Offspring, Superior Halter. AQHA Hall of Fame
Pure Pepto is proudly owned by Tracie Valentine