All mares are proudly owned by Tracie Valentine of TK Quarter Horses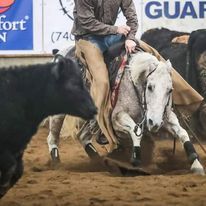 AQHA Show H-0/P-24 ROM Cutting 1996 AQHA World Jr Cutting-3rd 1997 AQHA World Jr Cutting-7th 1995 AQHA High Point Cutting-3rd 1997 AQHA Hi Point Cutting-10th NCHA $168,408 COA LTE $186,000. Finalist at 21 Major Events Sire of NCHA Super Stakes Open and Non Pro Champions, NCHA World Champion, RHAA World Champion (and more), Offspring Earnings over $8,000,000 and growing.

AQHA Show H-0/P-25 NCHA $59,975.59 NCHA COA Bronze/Silver Hall Of Fame 2013 In NCHA, Freckles Playboy is ranked third on the list of all-time leading sires, by offspring earnings. His sons and daughters tallied an amazing $24.5 million in NCHA earnings. Freckles Playboy offspring also earned more than $285,000 in the National Reined Cow Horse Association, more than $125,000 in the National Reining Horse Association and nearly $177,000 at the AQHA World Championship Show.

AQHA Show H-36/P-0 ROM Halter AQHA Race SI:75/A, 4-0-0-1, $95. Leading sire of AQHA Champions, NCHA Champions, and Arena ROMs. Offspring earned $1,178,484 in cutting. SIRE OF: 487 foals, 1960-1978. 323 performing foals. World Ch 9, Reserve World Ch 4, Top Ten World Show Offspring, Superior Halter. AQHA Hall of Fame

$126,252 NCHA LTE, NCHA $79 Million Dollar Sire, Equi-Stat Leading Cutting Sire, NCHA-AQHA Leading Cutting Sire.

ROM Performance Offspring, NCHA Money-earners, Equi-Stat Cutting Offspring LTE: $320,465.

NCHA LTE $577,652.36 Triple Crown (of Cutting) Winner Hall of Fame NCHA Cutting Futurity NCHA Super Stakes NCHA Derby NCHA money-earner AQHA Leading Sire 88% NFQHA Sired earners of over $41.2 million, #2 ALL-TIME Leading Sire

NCHA $11,640 and COA NCHA Sire of Earners of over $90,000 FULL BROTHER TO JEWELS LEO BARS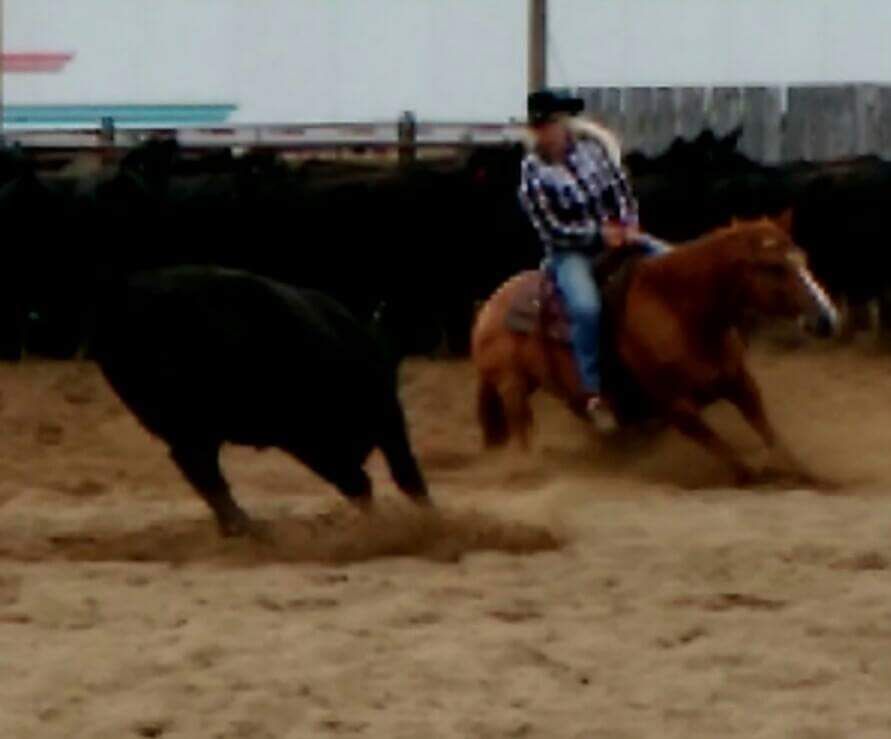 2000
NCHA LTE: $1700 Deceased 2022
AQHA Show H-0/P-25 NCHA $59,975.59 NCHA COA Bronze/Silver Hall Of Fame 2013 In NCHA, Freckles Playboy is ranked third on the list of all-time leading sires, by offspring earnings. His sons and daughters tallied an amazing $24.5 million in NCHA earnings. Freckles Playboy offspring also earned more than $285,000 in the National Reined Cow Horse Association, more than $125,000 in the National Reining Horse Association and nearly $177,000 at the AQHA World Championship Show.

NCHA $302,053.60 LTE $313K 1998 world champ cutting NCHA Open Classic Champion 2007 Equi-Stat #3 Leading Sire 2002 Equi-Stat #6 Leading Cutting Sire

3 All-Time Leading Cutting Sire

Siring the earners of over $24,100,000.

AQHA & NCHA Hall of Fame (2008) NCHA $172,711+

4-leading cutting horse sire of all time. Sired earners of over $28,000,000.00+

3 Times NCHA World Champion Cutting

earner $107,850+ in NCHA competition. Produced $2.63+ million in NCHA & 3,200+ points in AQHA competition.

Money Earners $726.092, (AQHA World Championship Show $13,179.15 NCHA $711,537.96) Top Producing Broodmare

Earner of $92,650 (NCHA $81,946) NCHA Silver Award NCHA 1981 Top 5 Open Futurity NCHA Novice Reserve World Champion NRHA Million Dollar Sire NRHA #8 All-Time Leading Sire AQHA Leading Sire of Performance ROM - foals earned over $3.8 mil 126 Performance ROM points As of 2006, NRCHA #6 Leading Maternal Grandsire (daughters earned $2.1 mil)

NCHA LTE $577,652.36 Triple Crown (of Cutting) Winner Hall of Fame NCHA Cutting Futurity NCHA Super Stakes NCHA Derby NCHA money-earner AQHA Leading Sire 88% NFQHA Sired earners of over $41.2 million, #2 ALL-TIME Leading Sire

Show Record: NCHA FUTURITY CHAMPION 71 * NCHA Earnings: $85,149. * NCHA HALL OF FAME * AQHA Reserve W.CH. CUTTING * Superior Performance, CUTTING Sire Record: World Champion Sire, NCHA; NCHA Get Money-earners; Working Cow Horse Get Money-earners; Equistat Leading Performance List: #13; Leading CUTTING Sire; Lifetime GET Earnings $3,815,501.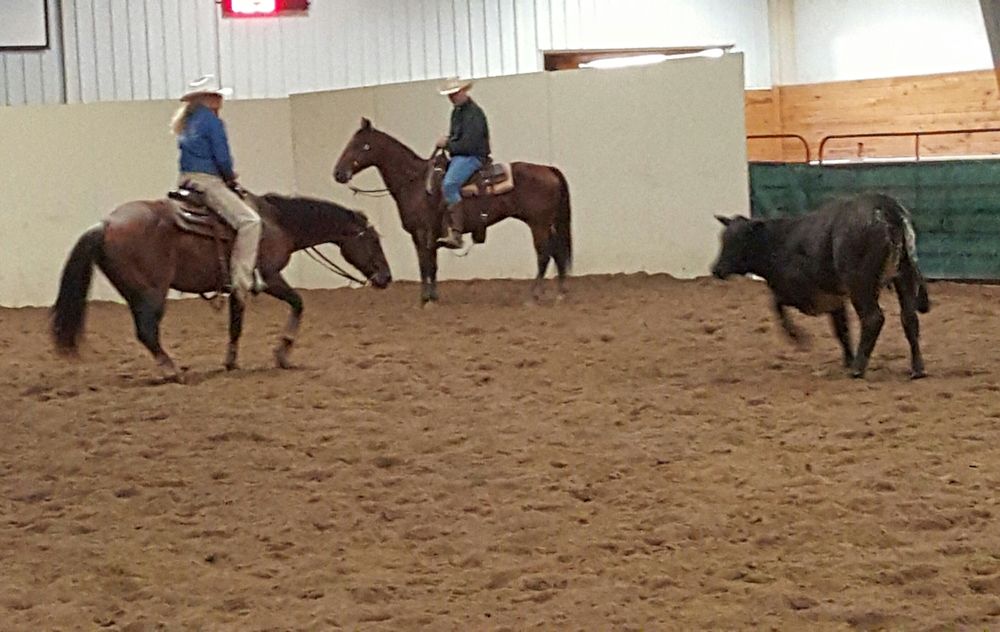 NCHA LTE $577,652.36 Triple Crown (of Cutting) Winner Hall of Fame NCHA Cutting Futurity NCHA Super Stakes NCHA Derby NCHA money-earner AQHA Leading Sire 88% NFQHA Sired earners of over $41.2 million, #2 ALL-TIME Leading Sire

AQHA Show H-36/P-0 ROM Halter AQHA Race SI:75/A, 4-0-0-1, $95. Leading sire of AQHA Champions, NCHA Champions, and Arena ROMs. Offspring earned $1,178,484 in cutting. SIRE OF: 487 foals, 1960-1978. 323 performing foals. World Ch 9, Reserve World Ch 4, Top Ten World Show Offspring, Superior Halter. AQHA Hall of Fame

AQHA Show H-0/P-25 NCHA $59,975.59 NCHA COA Bronze/Silver Hall Of Fame 2013 In NCHA, Freckles Playboy is ranked third on the list of all-time leading sires, by offspring earnings. His sons and daughters tallied an amazing $24.5 million in NCHA earnings. Freckles Playboy offspring also earned more than $285,000 in the National Reined Cow Horse Association, more than $125,000 in the National Reining Horse Association and nearly $177,000 at the AQHA World Championship Show.

AQHA Show H-36/P-0 ROM Halter AQHA Race SI:75/A, 4-0-0-1, $95. Leading sire of AQHA Champions, NCHA Champions, and Arena ROMs. Offspring earned $1,178,484 in cutting. SIRE OF: 487 foals, 1960-1978. 323 performing foals. World Ch 9, Reserve World Ch 4, Top Ten World Show Offspring, Superior Halter. AQHA Hall of Fame
In foal to Caribbean Cat for 2023
AQHA Show H-36/P-0 ROM Halter AQHA Race SI:75/A, 4-0-0-1, $95. Leading sire of AQHA Champions, NCHA Champions, and Arena ROMs. Offspring earned $1,178,484 in cutting. SIRE OF: 487 foals, 1960-1978. 323 performing foals. World Ch 9, Reserve World Ch 4, Top Ten World Show Offspring, Superior Halter. AQHA Hall of Fame

NCHA $11,640 and COA NCHA Sire of Earners of over $90,000 FULL BROTHER TO JEWELS LEO BARS

Show Record: NCHA FUTURITY CHAMPION 71 * NCHA Earnings: $85,149. * NCHA HALL OF FAME * AQHA Reserve W.CH. CUTTING * Superior Performance, CUTTING Sire Record: World Champion Sire, NCHA; NCHA Get Money-earners; Working Cow Horse Get Money-earners; Equistat Leading Performance List: #13; Leading CUTTING Sire; Lifetime GET Earnings $3,815,501.

AQHA Show H-36/P-0 ROM Halter AQHA Race SI:75/A, 4-0-0-1, $95. Leading sire of AQHA Champions, NCHA Champions, and Arena ROMs. Offspring earned $1,178,484 in cutting. SIRE OF: 487 foals, 1960-1978. 323 performing foals. World Ch 9, Reserve World Ch 4, Top Ten World Show Offspring, Superior Halter. AQHA Hall of Fame
Embryos available. (to approved stallions only)